Independent Art
November 14, 2020
Independent Art is a class offered specifically to students who want to advance their study of a specific art form. Most of the time this class is only available to students who have taken most, if not all of the other art classes offered at Cannon Falls. Mrs. Hernke, the director of this independent study, has allowed three talented seniors to take on this class this year. In the past, Mrs. Hernke has used the class to help her enthusiastic students dive deeper into a certain style of art. Unfortunately, this year she hasn't been able to give as many tips because she only sees them half of the time.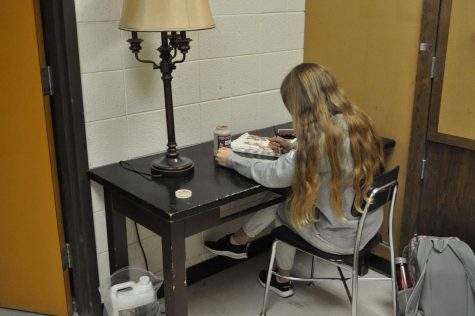 Makayla Bowen, Ashley Langfeldt, and Amelia Qualey are the artistic seniors who have worked hard to be accepted into this class. All three of them have mentioned that the biggest struggle with doing this independent class is staying on task and motivated when at home. These three do not participate in zoom meetings on the weeks they do distance learning, and as a result, they have to keep themselves accountable and on track with their projects. 
Self-motivation has posed as a huge challenge for the girls, but they have also faced other issues while adapting to the new learning environment that a pandemic calls for. Bowen mentioned that "The biggest struggle is hauling my materials back and forth every week." Like Bowen, Qualey has also faced challenges with transporting her projects to and from school. She stated "The projects I work on differ based on my learning environment. When I am at school, I enjoy working on ceramics projects, but since it is such a nuisance to pack up all of my supplies, I choose to create art with the medium ink when at home."
Staying motivated, transporting projects, and planning for future pieces of artwork has already been a challenge for these talented and dedicated artists. Although they have faced some struggles so far, they are still excited to continue producing masterpieces.