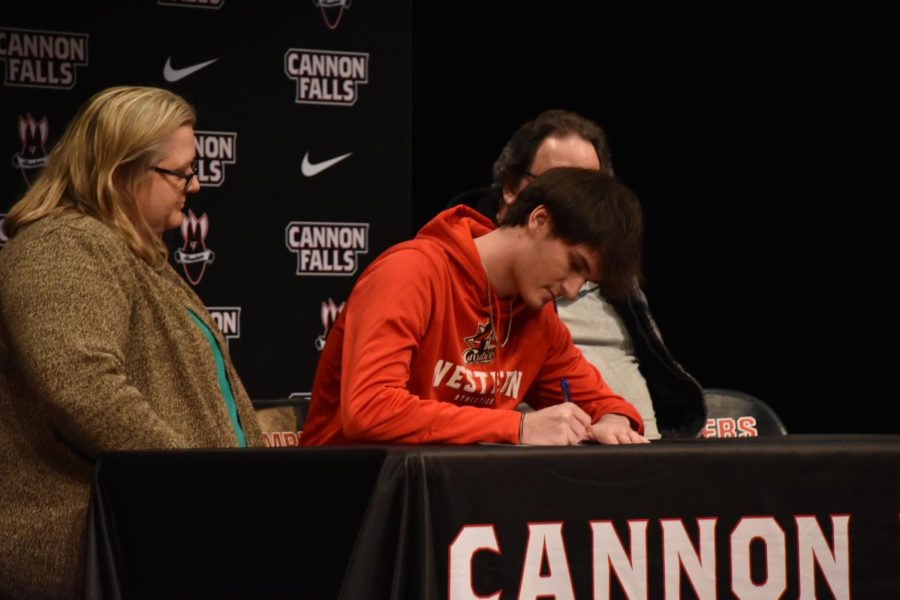 Noah Blanchard
May 25, 2022
On March 21st, 2022, senior Noah Blanchard committed publicly in the Cannon Falls High School auditorium to Western Technical College on Senior Student-Athlete Signing Day. Blanchard played as a shooting guard and will continue his position as a shooting guard for the Western Cavaliers basketball team. He said he knew at the start of his high school career that he wanted to play ball at the next level. Unfortunately during his senior season, he obtained a foot injury that made him second guess his future. Ultimately, he knew this once-in-a-lifetime window of opportunity couldn't be passed up. 
Noah Blanchard chose to take the exceptional opportunity and attend to Western Technical College because, "it checked all the boxes of what I was looking for in a school." Blanchard said he will enjoy the distance away from home, but will also stay in close comfort to his friends and family. He also stated that Western will provide him with a platform that will allow him to contribute to the basketball team from the start of the season. 
Blanchard's current plan is to major in Business Administration. He says this career path seems to be perfect since he has always been interested in all aspects of business. Blanchard says "this major of business will be applicable to any path I decide to go down." He believes that business is one of the most versatile degrees to obtain. 
Blanchard says his experience with the team has been positive. He has a strong connection with the coach and is confident in his team's future relationship. Blanchard explained he is excited he will be join by an old high school teammate at Western Tech. Danny Safe, a 2021 Cannon Falls graduate, will be playing with him. 
As Blanchard soaks up the rest of his senior year, he says it's a bittersweet feeling not coming back to Cannon Falls in the fall. However, he's incredibly excited to take the next step in his life as well as in his basketball career. The Cannon Falls students, staff, and community wish the best for Noah Blanchard as he continues his education and basketball career.