Photography
November 14, 2020
Photography is a class available for students to take their junior or senior year of high school. This class is commonly referred to as a laid-back fun elective by students, and although it has a reputation of being a relaxing course in the past, a bit more stress has been added to it this year as a result of the pandemic. 
Mr. Zimmerman, the Photography teacher, explained that his biggest initial challenge with instructing this course through a hybrid schedule was the management of lending out school cameras to use. Obviously, with Covid-19 in mind, the process of sharing and sanitizing school cameras was a huge concern. At first, Mr. Zimmerman was stumped about how to tackle this unique situation. In the past, he simply had his students share cameras, but this was no longer an option. Luckily, he resolved this issue with the help of his students; a great portion of his class offered to use their personal cameras from home, and by allowing students to use their own cameras, the need to check cameras in and out was eliminated.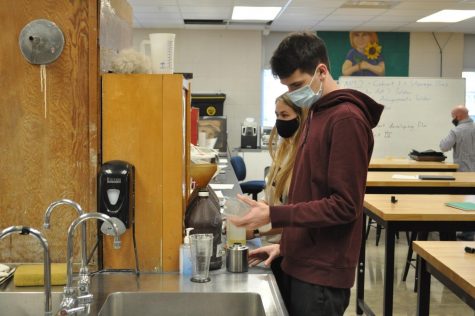 After efficiently solving this dilemma, Mr. Zimmerman moved his attention to figuring out a way for his students to edit their artwork from home. In previous years, students used a program called Adobe Photoshop to edit their photographs. Unfortunately, this program is only found on the MacBooks in the art room. Eventually, after a bit of searching, Mr. Zimmerman was able to find a free program for his students to use on their school issued devices. 
Similar to Mr. Zimmerman, many of his students have faced a series of challenges while conforming to the strict hybrid schedule. Belle Freeberg, a senior, stated, "The hardest part of photography this year is not being able to work with someone. Usually, projects are done with two to three people, but this year everything is individual." Freeberg also added that "It is difficult doing a hybrid schedule with photography because when I am at home, I can't get my film done, and I am not patient." This class has been a struggle for some, but everyone is attempting to learn how to look on the bright side.