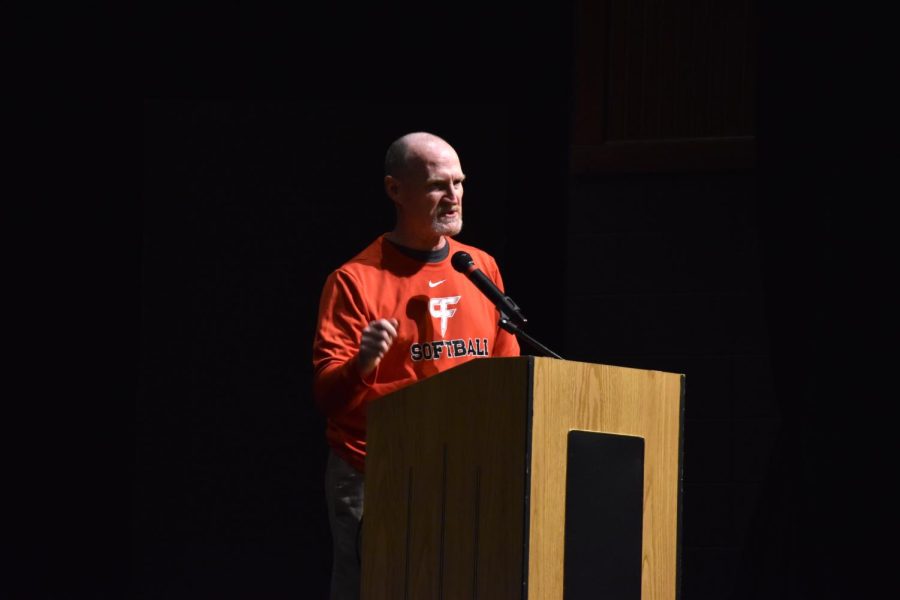 Sliding into a new chapter
Two CFHS senior softball players recently signed on to play college softball.
May 19, 2022
As the school year winds to a close, this year's seniors have begun to contemplate their plans for next year. In light of this development, two CFHS softball players, Kayley Frenette and Abby Breuer, have recently committed to playing college softball.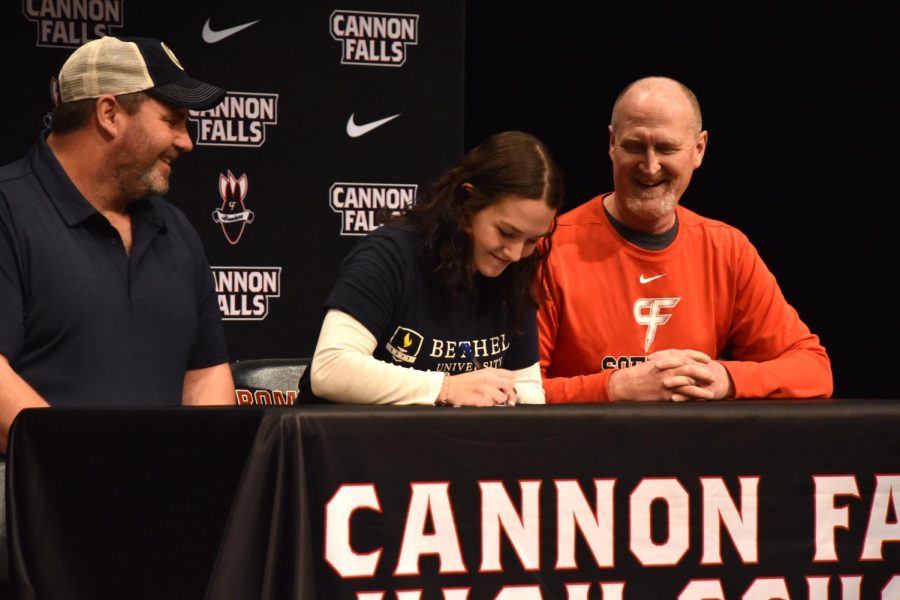 Kayley Frenette
Kayley Frenette, a Cannon Falls senior, committed to Bethel University in the beginning of March. Bethel University is a Division III school in St. Paul, MN. Kayley will be playing softball for Bethel in the Mid-South Conference (MSC). Kayley said that her primary positions will be pitching and outfield.
For the bombers Kayley plays in center field quite a bit of the time. She is a very valuable asset to the team in many ways. First, in the outfield she shows what she can do by hustling to every ball and never giving up on getting to it. Second, she brings everything she's got up to the plate with her, and when she is on the bases she is very aggressive and isn't shy about showing her speed. Finally, she always has a great attitude and never fails to bring the team up.
So far Kayley has attended practices at Bethel and been to multiple dinners with the team. Kayley has also had some overnights with the team. When asked how she decided where to go Kayley said,  "It felt like home right as I stepped on the campus, there was no awkward stage at the college. The team was very inviting in addition to teaching me how to make homemade milkshakes in the cafeteria." Like most college students and college athletes, Kayley is looking forward to the friendships she'll make and opportunities she'll have.
Lots of student athletes commit every year and Kayley has the same expectations that many do. Kayley said, "honestly, I'm expecting it to be really fun and a great new experience." Of course she'll also be attending class and learning all sorts of new things. She is planning to study pharmaceutical biochemistry. Pharmaceutical biochemistry is the study of how chemical compounds in medicine interact with different parts of cells. Pharmaceutical biochemistry is important to learn about to help us get a better understanding of bodily functions. Kayley is looking forward to becoming part of the study and to the new experiences she'll have as a student athlete.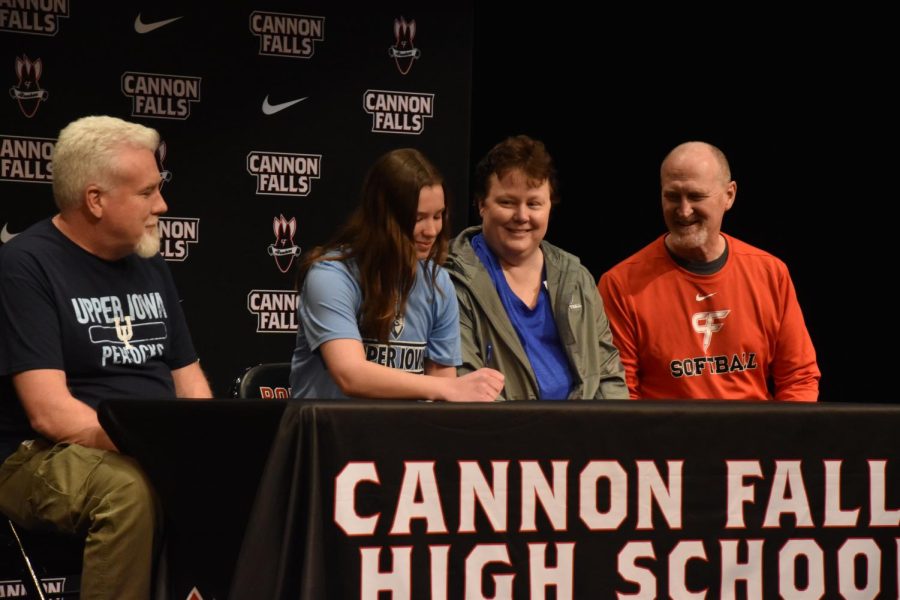 Abby Breuer
Cleats clinging to bags and bats scattered around the field provides a clear sign that the beloved softball season has arrived. Despite the constant weather changes and canceld games this year, the Cannon Falls Bomber Softball team still has the determination to play throughout the struggles. Every athlete dreams of achievement, whether that is hitting a home run or pitching out the best hitter, although some carry it further. Abby Breuer, a senior this year at Cannon Falls Highschool, has luckily accomplished her dream of playing in college athletics. 
An neverending recruiting process, and several decisions later Breuer settled on her future– Upper Iowa University, home of the Peacocks. "The recruiting process definitely had its highs and lows. I was grateful to receive multiple offers throughout it, but being in the recruiting process during COVID was extremely frustrating. I learned to trust the process and in return, I was able to find a school that was a perfect fit for me," Breuer stated, reminiscing on the difficult time many endured during the outbreak of COVID 19. She also discovered her future major, with a spot in the Pre-Physicians Assistant Program. " Honestly, I am so excited for everything," she exclaims.
Breuer thoroughly explained her passion for the sport, and the love that goes into it personally for her. "This has been a goal of mine since I was little," Breuer describes. " I would always watch collegiate softball players on T.V. and just admire them. I've grown up playing this game and worked very hard, so I am very fortunate to be given the opportunity to continue playing throughout college." Abby Breuer is preparing herself this highschool season for the leap into college sports, competing with talented girls from a multitude of places. With playing softball for six years, including playing on competitive travel teams all year round, Breuer's love for the sport has continued to evolve, pushing her to the collegiate level.