To All the Boys I've Loved Before
WARNING: SATIRE Charles Fick gives his thoughts about "To All the Boys I've Loved Before".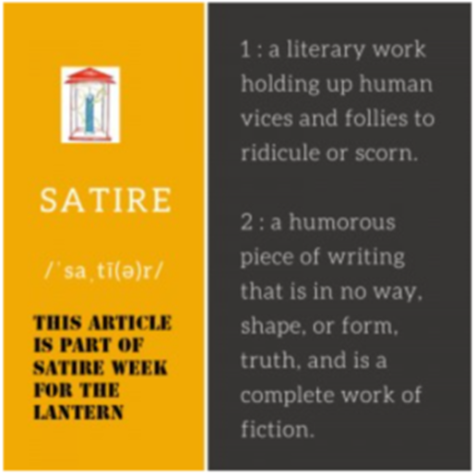 "Peter! You don't have to do this! We need you!" exclaimed Lara Jean Covey, the skintight unitard-wearing, akimbo-pistol-wielding, martial artist superheroine who is about to lose her significant other. Despite her pleas, Peter Kavinsky lets go of Lara's arm, plummeting to the endless depths of Heartbreak off of the cliff of Love. By sacrificing himself for a life without a girlfriend, he saved Lara from being dragged down with him. However, this left Lara on the ridge of love all alone, instantly alerting Anguish. Left with no partner protection, Lara fell prey to the oncoming foot soldiers, and just barely fought them off, in time to return to high school the next day as an outcast. While marketed as a teen romance drama, To All the Boys I've Loved is actually a thrilling superhero nail-biter meant for the audiences of action. Though modeled after the likes of Avengers: Endgame, To All the Boys I've Loved sets itself apart by taking the form of a typical high school experience, therefore casting a line into the realistic fiction genre.
Obviously crucial to all movies, the plot of To All the Boys I've Loved progressed exceptionally well, far surpassing its peers. With a combination of teenage love and combat, the story featured the struggle of unfulfilling relationships against the dark abyss of social rejection. Those in Romance High School who did not find a partner were shunned by their peers and condemned by the despicable forces of Anguish to a life of loneliness and depression. The movie followed Lara Jean Covey's journey through this world, and her desperation for a partner to protect her from these malevolent forces. Through ups and downs, from riding high on the social ladder to crashing into the underworld of isolation, Lara Jean endured with her best friend Gen, who unfortunately rejected her only chance at a boyfriend and was lost to the abyss. During this process, Lara Jean took up Tae Kwon Do and trained heavily with small arms to defend herself against the short-term Single Gremlins who would frequently assault those who went too long without intimate contact. While the plot of To All the Boys I've Loved proved sound, it was bolstered by the movie's stellar graphics.
To create a coherent action movie, any studio has to invest heavily in special effects. Even with this high standard, it is clear that To All the Boys I've Loved has billions, if not trillions of dollars put into SFX. From astonishing Gunsmoke-quality bullet flashes to Pacman-era music, this movie undoubtedly brings the movie industry's top game. Creating a visually appealing and sense-inducing environment, To All the Boys I've Loved tops the entire movie industry in its quality. In fact, the graphics were so impressive that one could immediately tell that they were edited in, which is a testament to the enormous wealth of the studio. However, the producers did not skimp on stunts, with multiple fight scenes that took place over deadly ravines being shot on location. The cast was forced to physically dive to the floor of the Mariana Trench while enacting combat with real bullets, to ensure complete realism and therefore create the best quality possible. Also, in many of the romantic parts, cardboard cutouts of hearts were thrown at the actors, to ensure as many similarities to the real world as possible.
All in all, To All the Boys I've Loved was a jam-packed action thriller that incorporated elements from teen dramas to create a top-tier movie. From excellent special effects to a flawless story, this movie is the epitome of the human film industry. However, many viewers will be stuck on the most meaningful and deep scene, which was when Peter Kavinsky selflessly threw himself off the cliff of Love into the dark abyss of Heartbreak.