Two weeks of school spirit
Homecoming at Cannon Falls was out of the ordinary this year, but everyone worked hard to make the best our of the unusual circumstances.
Homecoming looked a little different this year in Cannon Falls. With two cohorts coming to school on different weeks, the school got creative with how to make this homecoming inclusive to everyone. Homecoming was spread throughout a time span of two weeks to ensure that both cohorts got to be in on the fun. 
The Cannon Falls Student Council decorated the halls and the atrium with streamers to elevate the bomber spirit. They also organized homecoming dress-up days throughout the two weeks of homecoming. Both of the cohorts got to experience homecoming whether they were in person the first week or the second week. The first week of homecoming was when Cohort 1 was in-person learning. They were in school for the week of the homecoming volleyball game. Cohort 2 got to be in school for the second week of homecoming when it was the week of the homecoming football game. 
Amidst the chaos of the two-week homecoming, there was still a homecoming court and coronation. The princesses of the court included Belle Freeberg, Bella Davisson, Casey Vagts, Emma Louwagie, Nora Barnes, Maddie Hall, and Makayla Bowen. The princes of the homecoming court consisted of Isaiah Wildenberg, Wyatt Klavon, Owen Edstrom, Nate Harmsen, Jacob McAdams, and Danny Safe. The crowned homecoming king and queen were Danny Safe and Makayla Bowen. 
In addition to the traditional homecoming court, the Cannon Falls High School also decided to have a staff coronation. Students voted 14 faculty members to become the Staff homecoming court. Anne Davisson, Melissa Huseth, Heather Loeschke, Renae Otto, Destinee Stamer, and Erika Szramek were the faculty princesses of the court. The faculty princes of the court were Tim Hodges, Bucky Lindow, Josh Olson, Chris Sampson, Rob Stachowski, Steven Strauss, and Brett Zimmerman. The faculty homecoming king and queen were Steven Stauss and Erika Szramek. 
"
Overall I feel like our school spirit was still here this year"
— Kayley Frenette
Although homecoming this year was unique compared to past years, Cannon Falls made everyone feel included in the Bomber spirit that homecoming brings along. "Overall I feel like our school spirit was still here this year despite all the circumstances. I did miss going to the football games and pep rallies," said Junior Kayley Frenette. Many of the other students at Cannon Falls felt the same way. "Although a majority of the homecoming activities didn't happen this year, I'm glad we at least got to do something with the given situation," said Senior Emma Shepersky.  Even though this school year is one of a kind, everyone is making the most out of it. 
About the Contributors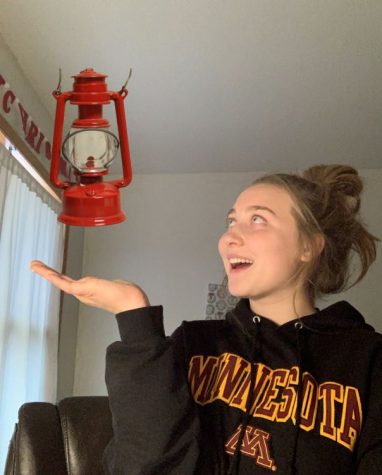 Makayla Bowen, Media Editor-in-chief
KK is a mad scientist. She works with all sorts of dangerous colors to make masterpieces far more impressive than the infamous Dr. Doofenschmirtz. Her...