Diamonds are a girl's best friend
In hopes of beginning the season with a quicker bat than last year, the Cannon Falls softball team waits eagerly for the first outdoor practice. While the snow dwindles down and the days begin to drag on, games should be playable sooner than last year. When asked what will be the biggest difference from last season, head coach Michael Gunderson states, "I think I've already seen it. Even just the ability to catch a ball. I think our ball skills are superior to last year". Leading the team will be two seniors, Becca Vandenheuvel and Lydia Franken. Both girls have high hopes for the season, as Vandenheuvel says "My biggest expectation is to improve our record from last year. We seem to have a stronger, more improved team and we should make it far this season." The two girls have both played varsity softball for two years and "are excited to end on a winning season," stated Vandenheuvel.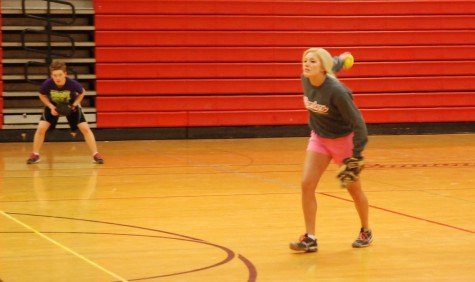 Since last year was jammed with games at the end of the season due to a mass of snow storms, the girls are expecting games to be more spread out this year, giving them a chance to practice skills that aren't quite one hundred percent. This year the team is depleted number wise, however coach Gunderson is confident in his team , saying "I think we have the right kids out. We're low on numbers but I think we've got enough here to have a pretty good team." The girls had a scrimmage on Saturday in the Rochester indoor dome, but their first game is scheduled for Thursday April 3rd at home against Zumbrota-Mazeppa. With the first official day of spring already over the fence, the girls are prepared for anything to come their way; whether it is a fastball, curveball or even a change up.